Sedum Mats for Green Roofs and Groundcover
Whether you're an architect of a large green roof project or a homeowner with big ideas for small spaces, sedum can work virtually anywhere you can think to put it!  Our sedum mats and blankets offer an instant cover of full grown vegetation.  It requires very little maintenance and very little weeding.  Similar to succulents, it does not need much water or soil to survive.  Varieties used are perennial and cold hardy.  Enjoy year-round beauty, with an extra burst of seasonal color and bonus blooms.  Sedum mats can be cut and shaped with a regular pair of scissors, allowing it to fit into any design!  Sedum mats for green roofs, the landscape or your next creative project; it's your choice!
The low maintenance and minimal irrigation tiles that we grow can be used any number of ways including the following:
Commercial
Green roofs
Green Walls
Erosion control / Slopes and embankments
Public Gardens
Schools
Vegetating Rain Gardens
Residential
Green roofs
Gardens and pathways
Erosion control/ Slopes and embankments
Retaining walls
Groundcover in landscaping
Landscaping pools and water features
Creative projects (birdhouses, dog houses, sheds, planters, table tops)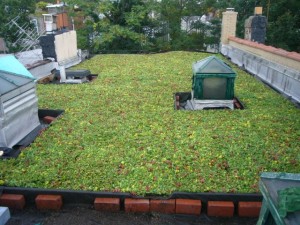 Our 1'x2′ Sedum Mat is an excellent choice for applications big and small!  It's lightweight and very versatile!
Fully vegetated and adaptable to most roofing systems.  Acclimated to zone 7a 0°-5°F.  Used on green roofs and in the landscape on grade.  Also used by homeowners in their gardens, on birdhouses, surrounding their mailboxes and planted poolside.  Use it anywhere your creativity takes you!  We stock several grower mixes using varieties from the list below.  Custom mixes can be arranged upon request with sufficient lead time.
Specs:
Size:  12″x24″ (2 square feet)

Growth Media: 1″ thick organic material with natural wood fiber on a non-woven biodegradable fabric

Overall Vegetated Height: approx. 3″

Dry Vegetated Weight: 4 lbs. (2 square feet)

Saturated Vegetated Weight: 9 lbs (2 square feet)

Possible varieties used (not limited to this list):

Sedum floriferum, Sedum acre (Golden Carpet), Sedum spurium 'Summer Glory', Sedum sexangulare, Sedum spurium 'Coccineum' (Purple Carpet), Sedum reflexum (rupestre), Sedum album, Sedum kamtschaticum, Sedum spurium 'Red Carpet', Sedum kamtschaticum var. floriferum 'Weihenstephaner Gold', Sedum rupestre angelina, Sedum spurium 'John Creech', Sedum spurium 'Fuldaglut', Sedum pulchellum
Download our printable
What will YOU cover in sedum?
Resources
Download the guide or feel free to reach out to us with any questions.
Freight
FOB Long Island, NY
East coast shipping eliminates cross-country trucking
Shipped directly to your project location
Customizable delivery to meet all your time and logistical needs
Quick turnaround
No pooled shipments
Reduces acclimation time due to less transportation
Packed on pallets. We can also bundle them for when our customers want to just use a freight elevator 😉
Also available for customer pick-up!